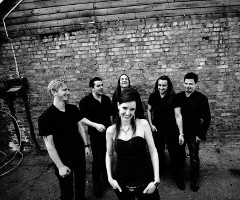 The storm that they literally set free with their latest studio album from 2006 ("Storm") paved the way for new opportunities for THEATRE OF TRAGEDY, Norway's best Gothic band.
When they introduced Nell as their new singer 5 years ago, it was uncertain how the fans would react to a new face fronting the band. But as people became better acqainted her, even her critics could not but respect how she earned her own place within the band. It could have been easier to just find someone who would simply fill a role, but thinking forwards and outwards, the band decided that in stead of a replacement they would have an addition, something - someone - entirely new. And so much for the better! Through countless live shows Nell has proven herself as a strong personal presence, in addition to an enchanting voice, as demonstrated on "Storm".
And now, THEATRE OF TRAGEDY return with a new studio album, "Forever Is The World".
Compared to "Storm", which in many ways was a return to the band's roots, this new work of art sees the band almost completely dismissing the electronic elements. The album features mellow songwriting full of ideas, but with a stronger element of the (Gothic) Rock base. The contrasts between the vocal stylings of Nell and Raymond create a unique atmosphere throughout the entire album, a reminder that the band is still the top act in their genre.


THEATRE OF TRAGEDY made music history in the mid nineties with albums like "Velvet darkness they fear" and "Aegis". Never before had a band combined a dark male voice with enchanting and bright female vocals to this extent. And no one could have guessed that this mixture would cause such a bright variety of dark and atmospheric shades that has made Gothic Rock/Metal so popular. THEATRE OF TRAGEDY is, always has been, and always will be, unique. 

But a band creating something so ground-breaking can never be a band that does not dare take chances. So the Norwegians have always developed and experimented with their talents, being creative and exploring new ways to express themselves.
Industrial electronic influences were to follow with their album Musique, there were changes in the line-up, and even shades of pop-music on their following album Assembly. But even at their most experimental, you could always find the essence of THEATRE OF TRAGEDY in their music.
THEATRE OF TRAGEDY parted ways with female singer Liv Kristine in August 2003 and thereby marked an end of their first decade as a band that has dared, gained and achieved more than most of the others. A decade of great creativity and a permanent artistic development draws to a close. And what has been more than clear all the time, is that this was not an conclusive end, but a new beginning. With Nell, their new age had begun. "Storm" was the strong comeback of a band that has never been away, another proof that THEATRE OF TRAGEDY has not only influenced the music scene, but that they are still able to do so.
 
"Forever Is The World" continues right where "Storm" left off but without the use of electronic elements and with a more natural sound. The album was recorded at Room 13 studios in Oslo with producer Alexander Møklebust (who has previously worked with Zeromancer, Seigmen, Monomen and Delaware, and others). Responsible for the mastering was Bjørn Engelmann (Cutting Room, Sweden). Be prepared for the newest incarnation of THEATRE OF TRAGEDY!

Contact Theatre of Tragedy