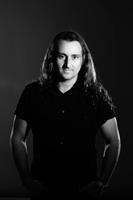 Full name: Raymond Istvàn Rohonyi
Date of birth: 20.07.1975
Place of birth: Stavanger, Norway
Location: R
Color of eyes: Brown
Color of hair: Brownish
Height: 175 cm or so
Family status: Chap to rent
Band member since: 02.10.1993
Contact


Pets: Did once have a gerbil named Rommel - poor bugger died.
Occupation: Work in an architect firm.
Instrument: Out of tune mumbling.
Equipment: Less well-equipped than before.
Musical background: Hein's usually behind me in the background. That's probably why he behaves like the Celtic Frost drummer.
Favorite food: Anything Greek, Lebanese, Turkish or Arabic.
Favorite drinks: Water, Ouzo, Raki, Ga-Jol, Sandeman Founders Reserve, Fisk
Favorite movies: Der Untergang, Amelie, Stalingrad, Leon, Das Boot, Snatch, The Fifth Element, American History X, Saving Private Ryan, The Big Blue, Jalla Jalla, Hotel Rwanda, Life Aquatic with Steve Zissou
Favorite TV series: Top Gear, Grand Designs, Sopranos
Favorite books: 'Inside the Third Reich' by Albert Speer, 'Panzer Commander' by Colonel Hans von Luck
Favorite music: Kraftwerk, Karl Bartos/Electric Music, Wolfgang Fl
Hobbies: My Barchetta, sitting in the sun, reading books
Best gig: Too drunk to remember.
Worst gig: Too drunk to remember.
Loves: A few things.
Hates: Most things.
Best qualities: None
Worst qualities: Many
Dreams: Sometimes.
Nightmares: Never.
Life philosophy: Nope. Fuck that.
Best song on new album: Motion...?