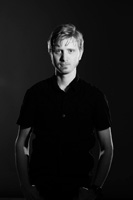 Full name: Vegard K. Thorsen
Date of birth: 29.03.1977
Place of birth: Stavanger, Norway
Location: Stavanger, Norway
Color of eyes: Blue
Color of hair: Red?
Height: 175 cm
Family status: Quite familiar
Band member since: 1999
Contact


Pets: Cats. An army.
Occupation: IT related. Have you tried turning it off and on again? Is it on?
Instrument: Guitar
Equipment: Impressive
Favorite food: Gyoza. Taco. Pizza.
Favorite drinks: Cup o' tea, Newcastle Brown Ale.
Favorite movies: The Nightmare before Christmas, Sleepy Hollow, Erazerhead, Tetsuo - the Iron Man, Ghost in the shell, Lord of the Rings (PJ trilogy), Hellraiser, Das Boot, Stalingrad, etc. [holy smokes...five years, and the faves are still the same...][Man alive... anoth
Favorite TV series: Monty Python's Flying Circus. Never mind the Buzzcocks. Vids. CSI Las Vegas.
Favorite actor/actress: Have a weak spot for Penelope Cruze (despite that embarassing thing with Tom). Salma Hayek (Santanico Pandemonium is welcome to my birtday party. There will be cake.). Isabelle Adjani. As for actors... I have to mention Keanu Reeves, despite his flaws (or
Favorite books: Anything by Anthony Beevor is good. George R.R. Martin's Songs of Ice and Fire I enjoyed. Richard Morgan's Takeshi Kovacs stories entertain. William Gibson has never disappointed me. Cryptonomicon and Snow Crash by Neal Stephenson were great. China Mievil
Favorite music: Old school industrial (SPK, Coil, early Neubauten), Death in June and Current 93 ... heck the list is too long. It'll get boring. But Joy Division and the Cure are cool. And if there's a vocoder involved, I'm happy.
Hobbies: Seasonal, but I try my best to stay indoors and out of the sun (it is trying to kill me, I'm sure). I sometimes crank up Guitar Hero. Sometimes I go to Azeroth for a bit of cartoony malarky. Sometimes I read a book, or watch a movie, or listen to music. A
Best gig: Probably one of the Paris Locomotive gigs. The Beirut gig was epic.
Worst gig: I'm sure there is one...
Loves: Cats, rain, beer, rain, tea. And tacos.
Hates: When the rain stops and the sun breaks through (no, this is not a mopey goth thing!). When I run out of tea.
Best qualities: Patience, my sharp wit and storytelling abilities. And I smell nice. [Update] The above still stand, but are all somewhat lessened and diminshed over the years.
Worst qualities: Get them all in "My worst Qualities" vol. I-IV, out to buy from www.sniggabooks.com
Dreams: bad.
Nightmares: good.
Life philosophy: is not for the faint of heart.
Final words: What happens if I press this butto...